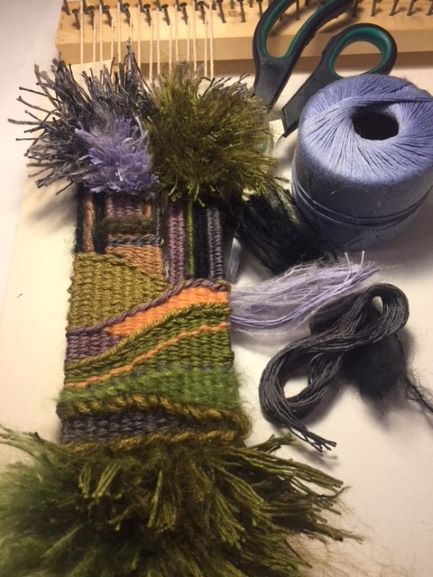 TAPESTRY WEAVING Workshop by Suzanne Riley
For beginners and improvers this creative workshop introduces you to Tapestry Weaving stitches and techniques.
Using a tapestry frame you will create a warp which will allow you to explore Tapestry weaving stitches such as Plain weave, Soumak, Slit weaving and Rya knots using an exciting range of weft threads of various weights, colours and textures. 
Your sampler wall hanging may be based on an abstract landscape as illustrated, or you may use your own image to inform your wall hanging.
For tapestry weavers with experience of the above, the workshop focuses on more advanced techniques such as introducing additional warp threads and weaving with wire ………….which may then be sculptured and shaped. 
At both levels you are guided through the weaving process with one to one tuition and group demonstrations by an experienced and qualified tutor.
TIME: 10.30 – 4.30 pm.      PRICE: £60 (includes a £30 non-refundable deposit to secure booking). Price includes tuition, use of tapestry frames and all yarns, fibres and threads.                                                                    Tea/ Coffee and Refreshments provided.             
For more information or to book your space please contact Suzanne
email: suzannerileyarts@gmail.com;  tel: 07593630978
or via Instagram @suzannerileyarts