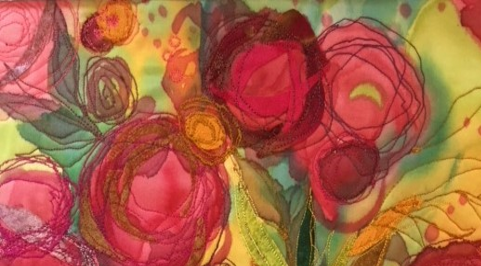 Paint, Applique, Stitch
This inspiring workshop is suitable for beginners and for individuals with some textile experience.
At both levels you are guided through each stage of the creative process with one-to-one tuition and group demonstrations by an experienced and qualified tutor.
To begin, you are provided with a range of imagery to select from which forms the basis of your design such as flowers, foliage and land/seascapes etc. You will apply silk paint to prepared silk and then applique fragments of patterned, coloured, textured and smooth fabrics to the silk.
Free machine embroidery, hand stitch and embellishments are then used to develop your designs.
*You will be required to bring your own sewing machine which allows you to use free machine embroidery…….more details when booking.
PRICE: £55.00 (includes a £30 non-refundable deposit to secure booking).
Price includes all materials
Tea/coffee and refreshments provided
For further information, or to book place, please email suzannerileyarts@gmail.com