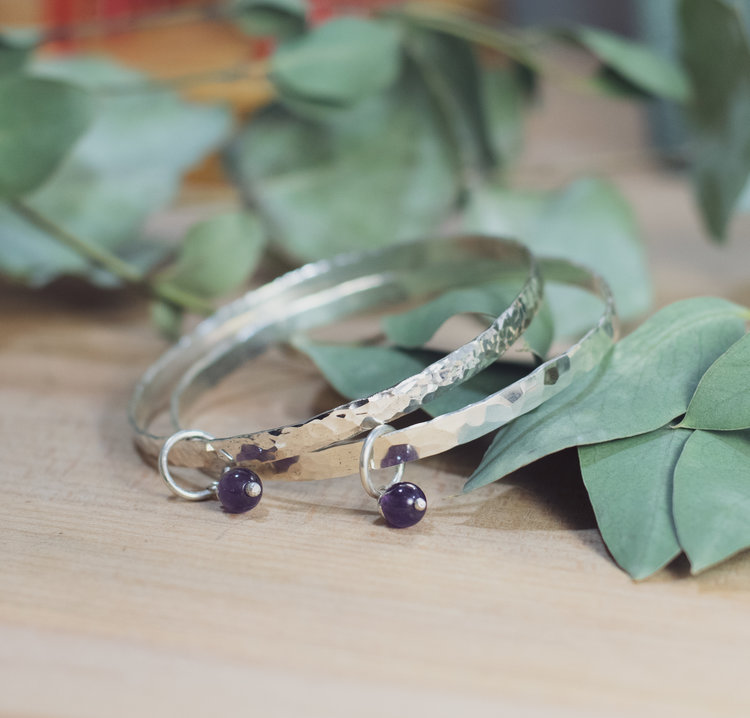 Make your own Silver Bangle
Join us in a relaxed and friendly workshop where you shall learn to size, shape, form, hammer, and solder a sterling silver bangle, made entirely using traditional silversmithing skills. We will equip you with the tools and guidance needed to complete your jewellery with your own two hands.
You will use various hammers and techniques to add different finishes to your bangle such as, matte finish, antiqued, glittering, pebbled, or a plain high polish. You will also have the option to add a sterling silver and/or gemstone charm to your bangle. We'll have a selection of fine semi-precious gemstones available on the day for you to choose from. This is included in the cost also.
The silver used in the class is 925 Solid Sterling Silver. This workshop typically lasts around 2.5-3 hours in total and is aimed at complete beginners but all are welcome. This is a very hands-on class. If you normally wear glasses for reading, we recommend you bring these. Please wear old clothes and closed-toed shoes. Long hair must also be tied back. We currently have no strict age limit on classes but please email us before booking a space for anyone under the age of 16 just to confirm this with us. Anyone under the age of 16 must attend with a participating adult.
Cost £80.
Please book using the following link;
https://noctua.co.uk/workshops/make-your-own-bangle-workshop