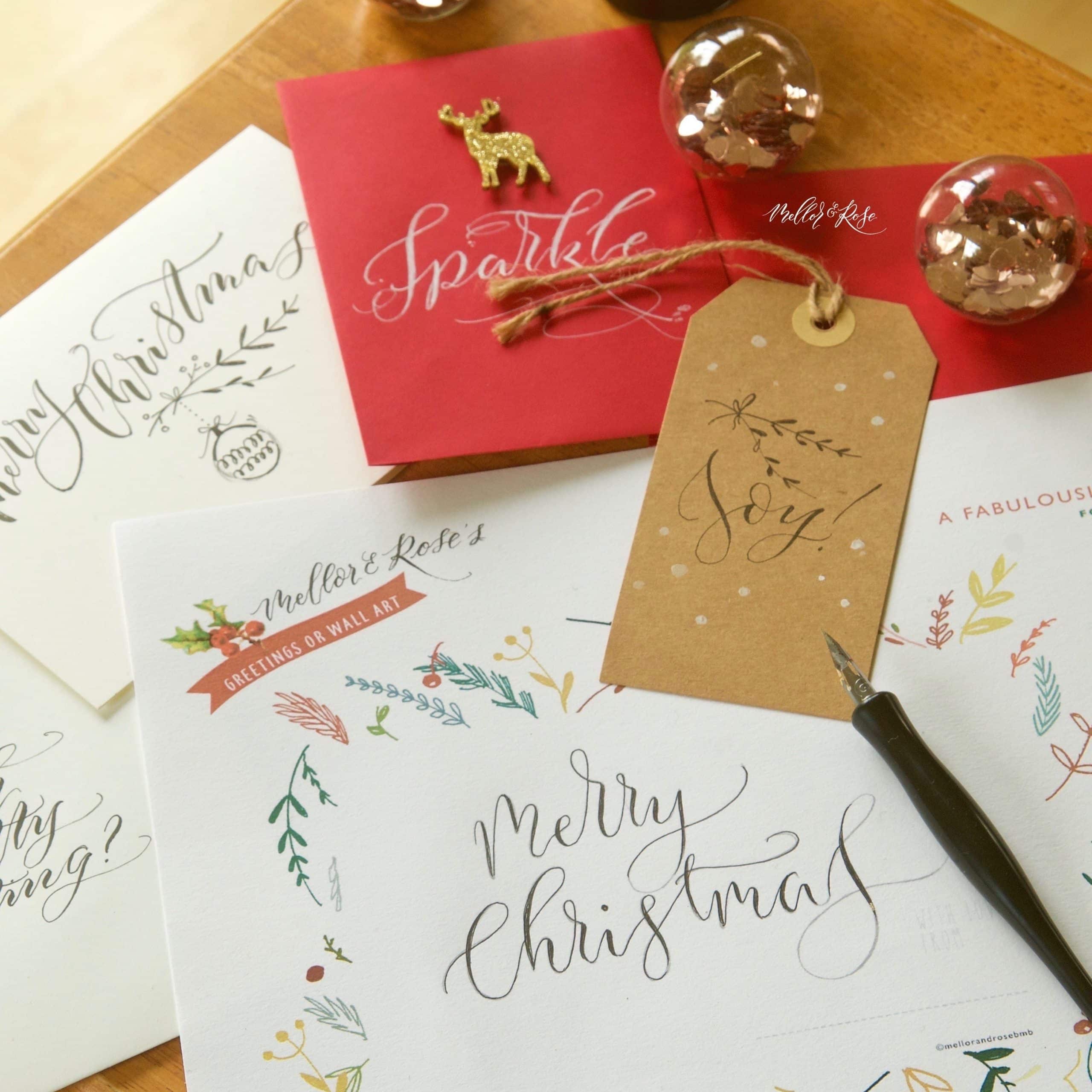 Christmas Calligraphy Workshop
Beverley, Polly and Lucy Mellor from Mellor & Rose are delighted to welcome you to their special themed 2.5 hour Christmas Calligraphy Workshop at Cedar Farm.
What we'll be getting up to:
During our special themed 2.5 Hour Workshop, we'll be kicking things off by learning the fundamentals of this stylish and elegant art form. Guided by 2 expert tutors you will learn how to hold the pen, letter forms, pressure strokes, rhythm etc.
We then continue onto the upper and lower alphabets, moving onto words and phrases – this ensures we have a sold technique for us to really get into the Christmas spirit!
In the second half of the Christmas Calligraphy Workshop, we begin to look to the festive pieces and learn to hand letter our very own Greetings Cards, Gift Tags and Christmas Words and phrases all in time to create personalised memories for your loved ones – lovely! We create our festive pieces using templates, where we then transfer over the designs to Wall Art, Cards, Greetings and Tags etc. so you can create your very own ready made Christmas Stationery!
Take some time away from our screens and pick up a pen – possibly a new pen, a pen we haven't held before – a dip pen!
In our workshops, we use a metallic nib and to get the desired effect of lovely calligraphy, we simply dip the nib into a pot of ink – a method rather therapeutic in itself. Once we have the hang of the core technique, we work through the individual letters of the alphabet and joining of the words to then spacing and layout, plus a couple of ornaments here and there.
What's included?
Priced at £69, for a 2.5 Themed Hour Workshop, Calligraphy Box includes Starter Kit + Christmas Calligraphy Workbook, Festive themed wall art, Christmas Decorative Illustrations, Luxe Stationery Items, 2 Workshop Tutors and Refreshments. No experience needed, only enthusiasm!
How to book:
To book your spot on our Christmas Calligraphy Workshop simply get in touch with Lucy Mellor via email at mellorandrose@icloud.com.